About C. Scott Grow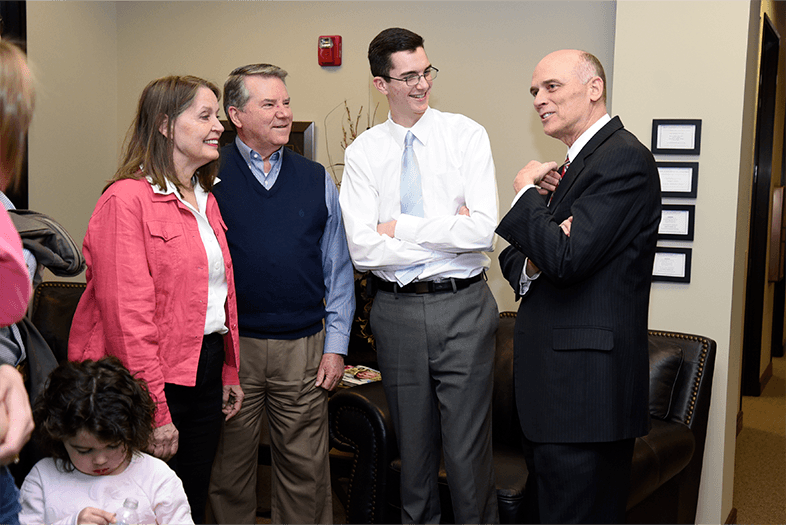 C. Scott Grow brings three decades of business and financial expertise to the Idaho legislature. As a small business owner, former CPA, tax expert and business consultant, he will work for conservative fiscal policies. Because he has worked with thousands of clients over the years, he believes your tax dollars should be spent wisely and with accountability.
Scott is an Idaho native who has raised his family in Meridian Idaho and has long been involved in the community. He's been a member of the West Boise Rotary Club, has served on two statewide advisory committees focused on Idaho families and religious freedoms, and has served two terms as Trustee on the West Ada School Board. Scott is a strong advocate for better funding for schools and quality education for our children and grandchildren.
Scott is running for Senate District 14, and as a member of the state legislature, he will pursue change for conservative fiscal policies, providing greater opportunities for all Idahoans. He plans to focus on preparing our students for the future, creating quality jobs for the people of Idaho, protecting your tax dollars, and improving infrastructure and roads.
INTERVIEW WITH THE IDAHO STATESMAN
1. Full legal name: C. Scott Grow
2. Date of Birth: May 5, 1948
3. I live in Eagle.
4. I am running for the District 14 Senate seat.
5. Occupation: My professional career has been as a CPA, small business owner, business consultant and investment advisor.
6. Past/present elected office: I served two terms on the Meridian School Board (now West Ada), including serving as the Board Chairman. I have served two terms as an Idaho State Senator. I serve as the Vice Chair of the Senate Local Government & Taxation Committee, as a member of the Joint Finance & Appropriations Committee (JFAC), and on the Economic Outlook Committee. In these positions I work on various tax issues, forecast the revenues for the state each year, and work on the budgets for all state agencies. I serve on subcommittees that work in detail on the following major budgets: K-12 education, higher education, transportation and law enforcement.
7. Education: I have a Bachelor's Degree in Accounting from Brigham Young University in Provo, Utah. I also have achieved professional designations as a CPA, Accredited Estate Planner, and a Personal Financial Specialist.
8. Past/present tax liens, bankruptcies or felony convictions: None.
9. a. Why are you running? I am a native Idahoan. We raised our family in Meridian. Six of our eight married children live in the Treasure Valley with their families. I want to give public service in this great state as a form of repayment and to assure that we maintain our conservative Idaho values. I feel that service as a state senator gives me that opportunity.
We have many grandchildren attending schools in the Valley. As a state senator, I will continue to work to provide the best possible education for them and for all other students in this state. I also believe that parents should have the right to choose the forum that they feel is best for their children, whether that be home schooling, private schooling, or public education. As I work on the state education budgets, I have input on all aspects of education in the state. I will also work to insure that controversial ideas are not advanced in our schools by political activists.
As a state senator I work to protect Idaho values. I have co-sponsored pro-life legislation and will continue to work to protect the unborn. I am a strong proponent for protecting our Second Amendment rights.
Also, I will fight government overreach and work to maintain the liberties of our citizens.
9. b. What are your top two priorities? The number one concern expressed by citizens is the frustration they feel with the rapidly increasing, exorbitant property taxes on their homes. In the last legislative session, I co-sponsored HB741, which would have given unprecedented property tax relief to Idaho homeowners. Since it was late in the session, the bill didn't have time to be passed. If it had passed, it would have eliminated all property taxes on owner-occupied homes, except for bonds and school levies (which local voters approve). The result would be a reduction in homeowner property taxes of between 65% and 75%. From now until the next legislative session, I will work with legislators and stakeholders to get their input and support for such legislation. I will present it again in the next session.
My other top priority has been to increase funding for state and local highways in order to relieve traffic congestion. This last session I successfully fought for funding to widen Highway 16, Highway 44, and Chinden Blvd. and to extend Highway 16 to I-84. Those construction projects will begin moving forward this year. This session we approved $1.25 Billion for state highways and $200 Million for local highways.
I will also work on legislation to widen Highway 16 from Emmett to Highway 44. That is a critical need for the residents of Gem County.
10. a. What do you believe your district needs most from its legislators in the next two years? Legislation to bring about major property tax reductions on owner-occupied homes. (See my discussion in 9.b.).
Our constituents also complain about our congested highways. District 14 has four heavily-traveled state highways: 55, 44, 20/26 and 16. I will continue to work to make sure that funding is provided for the widening and extension of these highways and to address needs for local highways. (As discussed in 9.b.)
They also want assurance that our educational system will not indoctrinate our students with controversial ideas. I will fight overreach by the far left and ensure that parents' right to control their child's education is protected.
10. b. How do you intend to respond to the rapid growth in the Treasure Valley? By giving property tax relief to current residents and to work to reduce traffic congestion. (See 9.b. and 10.a above). We understand that decisions granting new subdivisions and local road improvements are made by local government officials. However, we also understand that the cost for such improvement should not be borne by current residents alone. I will work to insure that state and local officials work together to coordinate these efforts to address rapid growth.
11. What sets you apart from your competitors? Two terms serving on the West Ada School Board (now the largest district in the state). We also had our own children in various learning situations: home schooling and private schooling, as well as in the public schools. I understand what parents feel is important in each of these learning environments, and also what must not be allowed by political activists.
My extensive experience in business, taxation, revenue forecasting and budgeting as discussed above. My broad and diverse legislative experience. As a state senator serving on JFAC, I am familiar with the priorities, operations and budgets of all state agencies, and have an in-depth understanding regarding the education, transportation, and law enforcement agencies.
12. What is one bill you wish the Legislature passed this year, and one bill you believe should not have been passed? I wisht that House Bill 741 would have been passed. (As discussed in 9.b.) I did not have any major concerns with any other legislation that was passed.
13. What is one issue you believe is not getting discussed enough that the Legislature should tackle? I believe the Legislature should address the concerns expressed by voters about the sales tax on groceries.